New on the market
Corona Direct now also offers kilometric insurance for motorcycle

After its kilometre-based insurance for cars, Corona Direct has launched a new formula for motorcyclists, that can now choose between 3 products –  civil liability, small omnium and full omnium. Motorcyclists drive an average of 2,400 kilometres per year. Adapting the insurance coverage to the motorcyclists' actual use is a big advantage for them. From a general point of view, motorcyclists would benefit if they travel less than 5,000 kilometres per year.
A bank for everyone in Belgium in January

Febelfin and the government have agreed to introduce a universal banking service on the 1st of January next year. It's an initiative of a "universal banking service" for banking customers who have not gone digital yet. Universal service means a basic service at a favourable rate, as is it is the case in the telecommunications and postal sectors. Eleven banks in the country have already signed the charter. The charter provides, from 1 January, for a service consisting of a package of at least 60 manual transactions per year, a debit card and a minimum of 24 cash withdrawals per year from an ATM. The possibility of free direct debits and standing orders is also encouraged. The package may not exceed 60 euros per year, with an annual increase of a maximum of 6 euros, for the duration of the charter.
Febelfin & Assuralia launched Club Invest
To guide budding investors, Febelfin and Assuralia have launched "Club Invest", an information platform for beginners. The sectoral federations based themselves on a study carried out by the bureau Indiville, among a sample of 2,045 people representative of Belgium.

More than half of them (55%) would like their savings to yield a higher return and 40% clearly choose to invest in riskier financial products. The study also shows that almost a third of respondents (29%) do not take the plunge into the stock market because of a lack of information. Among young people, the proportion who would invest in the stock market if they were well informed even rises to 47%. Club Invest is an information campaign whose aim is "to explain the basics of investing and demystify a certain number of beliefs", according to Febelfin.
Partnerships
New partnership between Qover and BNP Paribas Cardif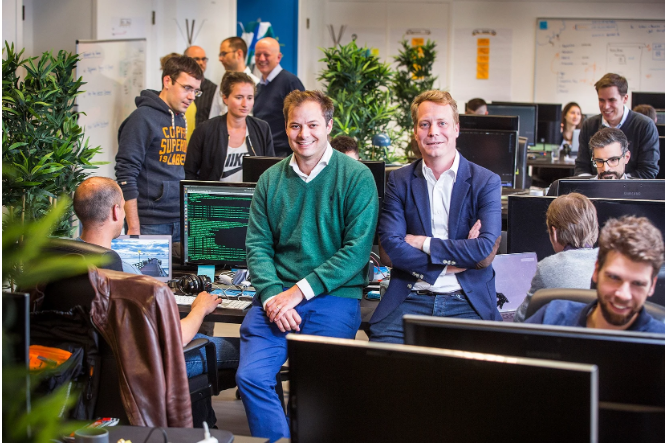 Qover has joined forces with BNP Paribas Cardif to offer credit payment protection insurance, a very popular product in Belgium given the number of real estate transactions. It is also a complex product, especially given the medical constraints linked to it. This is a strategic and long-term partnership, according to Qover whose core business is to develop technologies that allow its clients to tailor their insurance products. Qovers' mission will be to simplify this process and offer a seamless experience to BNP Paribas Cardif's clients. This is Qover's first partnership with a major retail bank, BNP Paribas Cardif being the world leader in credit payment protection insurance.
AXA partners with Legentic for a better service to policyholders in case of theft
Around twenty cases were resolved after an initial test phase of Legentic's "Sjerlok" platform, that offers a solution for tracking and tracing stolen vehicles or objects. This encouraging result allows AXA to consider a more extensive deployment to improve the service to its policyholders in case of theft. This is a first in Belgium.
@ work
AG Insurance is the largest employer in the insurance sector
The Belgian insurance sector has 11 insurance groups with more than 500 employees, and in total, just over 100 insurance and reinsurance companies operating in the Belgian market. Almost three quarters of these companies have hired employees. Assurinfo noticed that the Brexit had an impact on the number of insurance and reinsurance companies in Belgian, when compared to 2019, since several ones decided to open an entity in Belgium in order to be able to operate in Europe.
With 4,345 employees, AG Insurance is the largest employer in the sector according to Assuralia.  AG is followed by AXA (3,600 employees) and Ethias (1,839 employees).
KBC to test working on Sundays
KBC has reached an agreement with ACV Puls to test working on syndays in Flanders and Brussels from January, for 8 months. In Wallonia, CBC is conducting its own discussions. "With KBC Live (telephone, chat), KBC wants to offer its customers the same instant solutions to their questions on Sundays from 9 am to 5 pm as those already offered via KBC Live at other times," according to the press release.
More women than men in Belgian insurance companies.
In 2020, 54.2% of workers with permanent contracts are women. However, almost one woman out of three (31.1%) with a permanent contract works part-time, while among men the proportion is only 7.9%. Women actually represent less than half (46.9%) of the full-time workforce. The trend towards greater numbers of women in insurance companies since the early 2000s has been observed mainly in the executive, inspector and management functions. In 2020, 46.0% of managers are women, compared to 40.4% in 2010. Among inspectors, 20.4% are women in 2020, compared to 11.9% in 2010. The proportion of women in management positions is also increasing: in 2020, 30.4% of the members of the management are women, compared to 20.7% in 2010.
Among women, 63.0% are in the operational category, 33.3% are in the managerial category and 1.7% are members of the management. Among men, 41.1% are in the operational category, 46.3% are managers and 4.7% are executives.
When looking at the share of female workers on permanent contracts by job category, they are most represented in the operational category (almost two out of three workers are women). In the other (broad) occupational categories, men are still in the majority.
Sustainability in the financial sector
FSMA responsible for monitoring the application of European transparency rules on sustainability in the financial sector
Since March 2021, a number of Belgian financial actors and products are subject to new European transparency rules on sustainability. These include institutions for occupational retirement provision, insurers and supplementary pension plans. These rules stem from the "SFDR Regulation", which aims to harmonise the way in which institutional investors, such as occupational pension institutions and insurers, must integrate environmental, social and governance factors, the so-called "ESG" factors, into their investment decision-making process.
8 insurance groups create the Net-Zero Insurance Alliance
Eight European insurers and reinsurers have created the "Net-Zero Insurance Alliance", or NZIA : Scor, Axa, Allianz, Aviva, Generali, Munich Re, Swiss Re and Zurich Insurance Group.
It is a collaboration "that crowns the work carried out by the founding signatory companies with the United Nations Environment Programme" according to Scor, one of the eight founding members. In this context, the French reinsurer commits to "reduce all direct and indirect greenhouse gas (GHG) emissions related to its reinsurance underwriting portfolios, so as to achieve zero net emissions by 2050" and to "encourage the implementation of corporate disclosure standards and global policy frameworks for a transition to carbon neutrality in the insurance sector".
Annual Reports
2020 yearly Ombudsman report for insurance 
The Ombudsman was contacted 7,629 times during 2020. This represents an increase of 13% compared to 2019. Lack of communication, lack of response and management delays remain the main reasons for consumer dissatisfaction and correspond to 26% of requests. Once again, claims handling is more common than production operations. The branches with the highest increase in 2020 are phone comprehensive insurance and cancellation insurance. Some lines of insurance have been directly affected by the health crisis: cancellation insurance, health insurance and life insurance. Finally, in various branches of insurance (cancellation, car, fire, etc.), many policyholders wanted to obtain a refund of the premium paid or part of it because the insured risk had disappeared or decreased in the context of the health crisis.
Sources :
Davantage de femmes que d'hommes parmi les travailleurs des entreprises d'assurances belges mais pas en équivalents temps plein
New partnership between Qover & BNPPF Cardif
AXA innove avec Legentic et la solution de détection de véhicules ou objets volés
Certaines compagnies proposent désormais l'assurance au kilomètre… pour les motos
Febelfin et Assuralia lancent le "Club Invest
A bank for everyone in Belgium in January
La FSMA compétente pour contrôler l'application des règles européennes de transparence en matière de durabilité dans le secteur financier
8 groupes d'assurance créent la Net-Zero Insurance Alliance
AG Insurance est le plus gros employeur du secteur suivi de AXA et Ethias
KBC va tester le travail le dimanche