Every month, we help you keep up with the Belgian insurance market.
Merger & acquisition
Ageas coveted by BE Group
After a first attempt in 2020, BE Group, a consortium of former investment bankers, has attempted to take over Ageas Group. This operation, if successful, would be one of the most significant in the sector.
However, BE Group may have difficulties in finding Belgian shareholders.
Market
The Belgian fund sector reaches a negative percentage
End of 2022, the sector of Belgian funds recorded a decline of -2,1%.
More specifically, the net assets of funds that invest mainly in variable income securities, such as mixed funds and equity funds, fell by -2.6% over this period. Besides, mixed funds are the ones which experienced a decrease and especially the pension funds, with a decrease of -4,2%.
Lastly, the net assets of funds invested in fixed-income securities dropped by -0,2%.
More information on key figures here.
Accident at work : the kilometric allowance indexed
The kilometric allowance received by victims of an accident at work for any travel related to work or care has been indexed. The government has increased the amount per kilometer from €0,2479 to €0,3704.
In addition, this allowance is now linked to the central index and is adjusted annually according to the IPC.
This change does not apply to travel expenses incurred by public transport.
Proven insurance fraud between 100 and 140 million euros per year
According to Assuralia, proven insurance fraud is between 100 and 140 million euros per year. This corresponds to the amount of expenses that are avoided or that insurance companies can reclaim from fraudsters. This remains an estimate, as fraud is difficult to ascertain.
The estimate includes 5 to 10% of the expenses for non-life insurance. In addition, 750 million euros could correspond to the amount of erroneous payments.
The results of the pension saving funds
As a result of the fall in the equity markets, the return on pension savings funds fell by an average of 16%. A similar situation to 2008.
If we take a closer look, dynamic funds have been more affected by the economic situation than mixed and defensive funds. However, pension funds imply a long-term investment, and therefore a more advantageous return in a few years.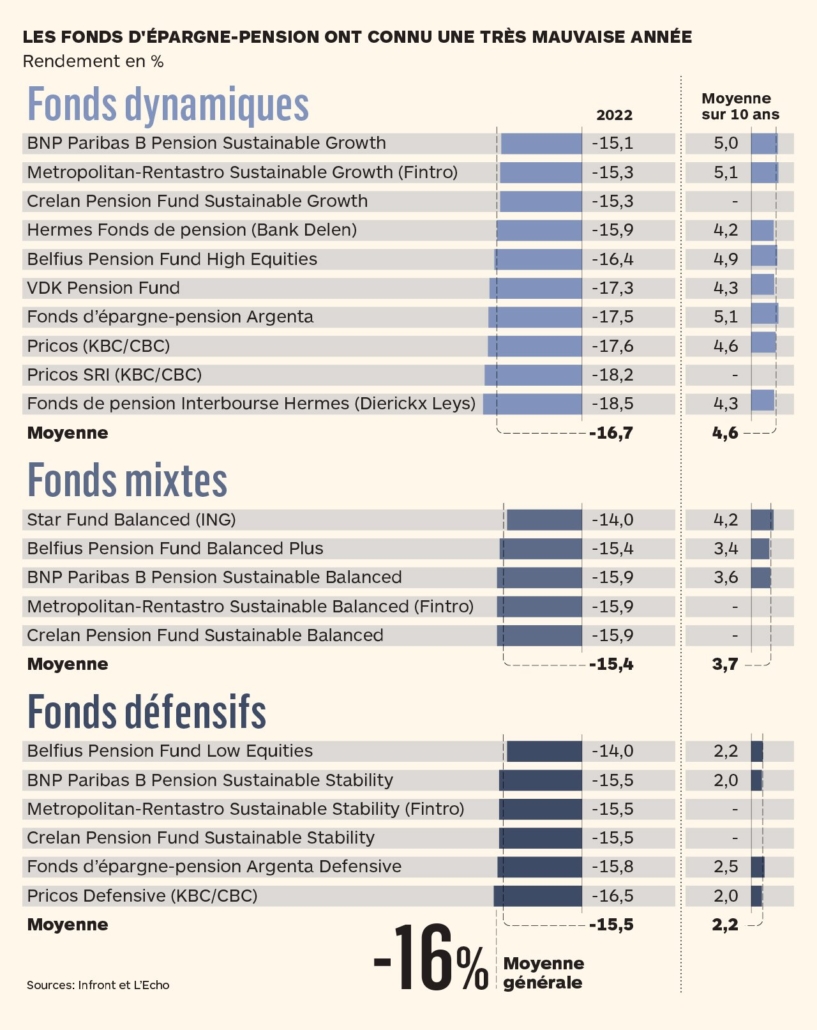 Moreover, the market shows that savers do not withdraw their investments immediately. Indeed, BNP Paribas Fortis has estimated that withdrawals fell by 36% in 2022.
For 2023, the investment strategy will be cautious and seems to be more oriented toward bonds. Indeed, the risk of bad results from companies worries investors.
ING investors barometer
For the 11th consecutive month, the ING Barometer remains below neutral level, with 81 points.
According to the barometer, two trends stand out: real estate remains the best investment for 2023 and young investors also believe in crypto-currencies, despite the turbulent year these assets have experienced.
Indeed, 29% of respondents choose real estate, compared to only 19% for stocks or equity funds. Furthermore, only 7% of investors consider bonds and bond funds as one of the best investments.
Overall, it should be noted that uncertainty about the stock market remains high among investors.
More information about the barometer here.
Brokers as major players of the Belgian insurance market
The insurance market collected 29.3 billion euros in 2021, an increase of 5% compared to 2020.
The non-life, individual life branch 23, and group life operations recorded higher premium income in 2021. Branch 23 products are increasingly popular, partly due to the continuing low-interest rates and the recovery of stock market results in 2021.
Moreover, brokers hold 52,8% of the overall insurance market inflow.
Of this 52,8%, 27,6% is held by exclusive networks and bancassurers. Only 19.6% of insurers' direct distribution channels account for the overall premium income.
Brokers play a significant part in both non-life and life products, accounting for 46% of the market share in the latter case. In particular, they have gained ground in savings and investment insurance. In addition, non-life insurance for professionals is sold via brokers, who hold 46.3% of the market.
Allianz Risk barometer 2023
Allianz has published its annual barometer of business risk rankings. The barometer is based on the opinions of 2,712 risk management experts from 94 countries and regions.
For the second year in a row, cyber incidents and business interruptions top the list. The third most important fear of Belgian companies is the risks linked to legislative and regulatory changes.
Risks related to natural disasters, climate, and pandemics declined in the ranking. In 10th place, political risk and violence have appeared.
You can find more information on this barometer here.
Car insurance premiums rising
Due to inflation and rising costs, car insurance premiums will increase among various insurers during the course of this year.
Here is the percentage of increase per insurance company:
AG Insurance and Axa – 4,5%
Corona Direct – 5%
Baloise – 5,3%
Belfius – 6%
Federale Assurance – 3,5 to 8%
The increase in costs is linked in particular to the need for more qualified labour, as the components to be repaired are becoming increasingly advanced. In addition, the price of spare parts imported from abroad also has an impact on costs.
It is necessary to take into account that the increase in premiums is also due to the real value of cars, which has increased for both new and second-hand vehicles.
Ethias enters venture capital
Ethias is launching an investment fund with the aim of supporting promising young national companies in the financial and insurance sector. The fund is called Ethias Ventures. Raising already 20 million euros in its debut, about 1 million euros will be granted per application. At the time of writing, 50 applications are already being analysed internally.
Ethias Ventures has a double objective: to support promising fintechs and insurtechs to launch their products and to provide Ethias' customers with innovative solutions.
To carry out this project, three innovation managers and a corporate finance specialist have joined the boat. In addition, Ethias Ventures will benefit from the expertise of the entire group.
The company will say more about this project on 15 February.
Legislation
Changes for debt collectors
People involved in debt collection activities must subscribe to a professional liability insurance. Until now, based on the Royal Decree of 17 February 2005, the minimum cover was €175,000 and the excess €3,500. However, from this year onwards, these amounts will increase to €187,500 and €3,750 respectively.
These increases are due to the rise of the consumer price index. These amounts apply from 1 January to the next annual deadline.
Sources: